Over the last 3 years, we have supported some incredible projects in Nepal, Laos, Tanzania, and India. Our projects in 2021 include Sierra Leonne and Kenya. 
Here are some of the recent projects:
Global Issue Workshops
Running workshops on the importance of long term education, a clean and sustainable environment and gender equality with children to ensure they are able to understand these global issues at an early stage in their lives.
School Renovation Project Nepal 
In June 2019, we helped renovate local schools in Nepal as well as creating a Sports Arena in another! Check out some of the transformation pictures below:
Enriche Project
Giving illiterate and semi-illiterate individuals the knowledge and tools to improve their local community.  To do this, they are provided with focused lessons in solar infrastructure, technology, finance, legal rights, micro-enterprise (small business skills) and environmental education.
Every individual trained, becomes a teacher in their local village and shares the knowledge they have learnt. 
---
Day and night schools
Aimed at children from local villages aged between 6 and 14, these schools help to build the skills and knowledge required for a brighter future.
(Above) The children at Shree Mitra School, Nepal getting the Storyteller School kits!
(Above) The children in India receiving Storyteller school kits to ensure they have the resources to hand to keep on learning!
---
Literacy-focused programmes using books written in local languages by local authors 
In collaboration with Room to Read, we are helping children to read using books written in local languages and created by local authors and illustrators. Each book is custom made to the specific region or village, and also helps to share important lessons about social-economic thinking such as gender equality and the environment.
---
Life skills and vocational training centres
Training individuals with life skills and training courses such as hairdressing, crafts, computer use and dressmaking which will allow them to obtain paid employment.
(Above, our Storyteller Miguel leading business workshops in Kenya)
---
Learning programmes at non-government funded schools
Providing access to education for individuals in rural communities and non-government schools, such as The School Under the Bridge and The School in the Park in India.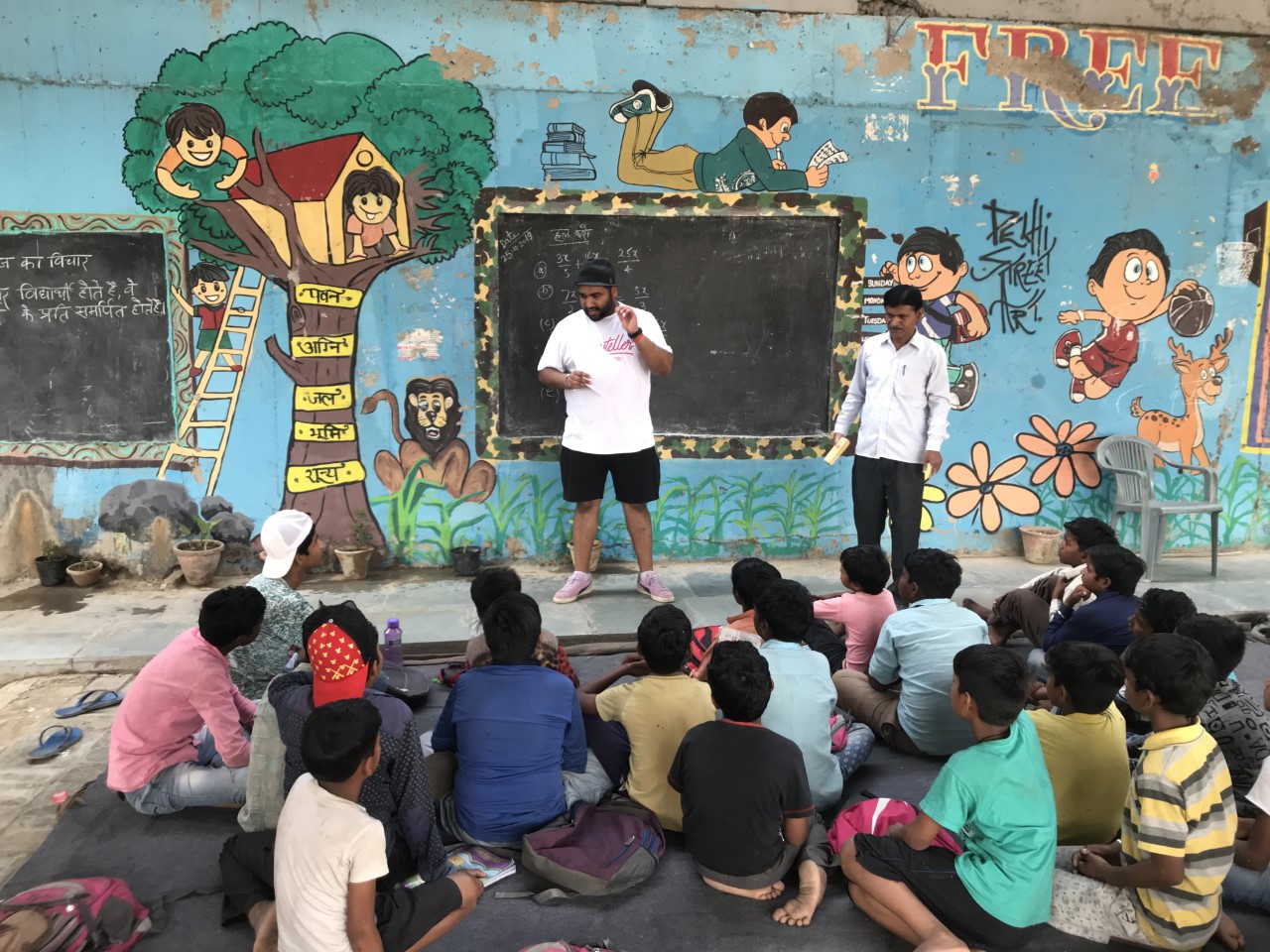 The School under the bridge, is a school under a metro bridge, where 300 children attend daily! With no government funding or charitable status, they rely solely on donations.
---
Life skill workshops from the Storyteller Community
Teaching skill-based workshops covering how to methods to overcome fears, using existing resources effectively, how to build confidence and communicate well, presenting and improving personal skills.
UK Charity Fundraising
We aim to work with our charity partners throughout the year to organise events in the UK and abroad- keep a look out on the Storyteller Community page for further details!
Supporting Schools in the UK
Helping support schools in the UK with career and skill building workshops in partnership with Ark Charity.
Make a change to the world we live in
Sign up to receive stories and updates from Storyteller about our work with our partner charities.