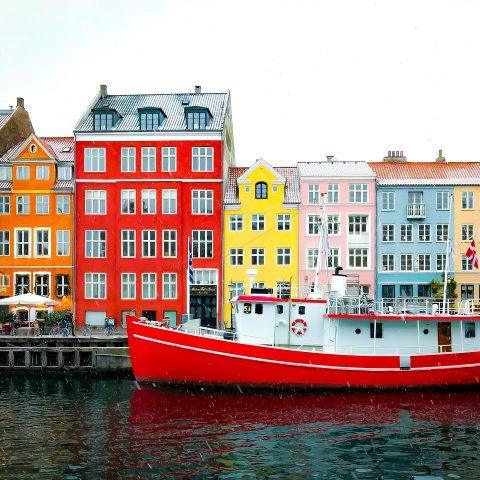 Copenhagen, Denmark
If Carlsberg made cities… it would be Copenhagen.
A city with a booming street-food scene on Refshaleøen, a former shipyard which is now a rebooted as a food and craft market. Amusement park Tivoli Gardens brings an incredible colour and beats the winter blues in the darker evenings (when it is dark!).
Danish Architecture Centre has moved into Ellen van Loon's buzz-inducing cultural centre BLOX, while the anticipated mid-2019 completion of the new metro line means even easier cross-town adventures. Finally, the vibe, energy and incredibly happy people make this place an amazing atmosphere! Going in winter? Don't worry bars come well equipped with heaters and blankets!
Kotor, Montenegro 
Majestic mountains, breathtaking beaches and larger-than-life locals, Montenegro proves once again that all good things do indeed come in small packages. Although the country is rightfully revelling in the spotlight, the people remain as they've always been: candid, convivial and charming.  The richness of its cultural history can be seen in the mosaic floors of Roman villas, monasteries, Catholic churches, and the strong fortresses.
With its incredible winding streets, medieval old towns and one of the best coastlines in Europe, Kotor it is going to be the "it" location soon so get before everybody else (yes, those super excited Brits and Aussie travellers- ha!)
Shēnzhèn, China
China's most innovative city Shēnzhèn,  is now well known as the 'Silicon Valley' of China. Drawn to its slew of new design openings and tech innovation, creatives are swarming to Shēnzhèn. With a strumming indie-music scene, cool cafes, contingent of craft brewers and incredible district of new art, Shēnzhèn is a must visit!
Marrakesh, Morocco
Morocco is the gateway to Africa. Ancient cities, incredible taste, smells and sounds make this destination a must visit for any traveller. A city with a local market culture makes sure that you can taste the local delights and get yourself some super detailed handicrafts on your adventures.
The local culture in Morocco is really welcoming, so leave some time to sit, relax and grab a local tea with the locals for sure!
Kathmandu, Nepal
After the 2015 earthquake, there was a lot of reconstruction and rejuvenation required, but now the historic sites have returned better than ever to their former glory!
Kathmandu is set around the Durbar Square at Basantapur, where the royal family lived until the 19th century. Along with walking around the famous square, a visit to the old city areas and Nepal's famous Buddhist temples (our favourite is Swayambhunath) are just some of the incredible things to see in this beautiful place.
Mexico City, Mexico
Centuries of architectural design, incredible art and modern wonders such as the Museo Soumaya make Mexico City the World Design Capital in 2018.
Mexico really does embrace the influence of old traditions, proving that design is an effective tool for economic, social and cultural development. Oh and on top of all this, incredible beaches and sun, sun, sun makes this a must visit!
Dakar, Senegal
Probably a suprise to most, but this is definitely a must visit for us! A dynamic city in Africa, Dakar offers the ultimate mix of beautiful beaches, incredible markets and lit up nightclubs. Senegal's seaside capital has long been overlooked by many travel hubs in West Africa but with a new, recently opened international airport, there are great signs for this to be the tropical paradise. Watch out for this city, we think it is going to be THE next must place! You heard it here first!
Zadar, Croatia
Zadar has risen from the ashes of its war-ridden past and blossomed into a spirited cosmopolitan city. Walk through the Old Town 's bright marble streets to discover laidback cafes, ancient Roman ruins, innovative museums, and rustic restaurants. The true phoenix of Zadar's transformation is its waterfront promenade, where huge amounts of locals gather to listen to the magical chimes of the Sea Organ or bask in the mesmeric illuminations of the Sun Salutation. When you arrive, you will have an immediate with the local life and culture, and incredible beauty that surrounds you.